Anita Hill, a lawyer and professor, became a national figure in 1991, after she accused US Supreme Court nominee Clarence Thomas, her supervisor and head of the Equal Employment Opportunity Commission, of sexual harassment. Thomas denied the claims made against him, referring to the accusation as a "high-tech lynching for uppity-blacks" by white liberals who were looking to block a Black conservative from a seat on the court. The US Senate confirmed Thomas to the Supreme Court by a vote of 52–48.
Directions
Watch the PBS video and answer the questions in the boxes below. Keep in mind the following as you watch the video: The editorial board of a newspaper is made up of a group of opinion writers and editors who meet regularly to determine the direction and tone that their section of the paper will take. They are separate from the paper's reporters, who write "straight" news stories, and opinion columnists, who contribute articles independently.
---
---
Annotate this Image
Directions: Read the transcript (edited for length) below. If time allows, watch the full video of PBS NewsHour's Gwen Ifill interviewing Anita Hill in 2016. Then use the annotation tool to answer the following questions:
News audiences want to know the basic facts, sometimes referred to as the "5 Ws plus 1 H"—who, what, where, when, why, and how. Can you identify those elements in the Anita Hill and Clarence Thomas controversy?
What is one question by Gwen Ifill that you found interesting or important? Why? What other questions would you have asked?
Why do you think the public is still interested in this story twenty-five years later?
Were you familiar with the controversy surrounding Thomas's nomination to the Supreme Court? What other questions do you have?
Do you think the outcome would have been different today in light of the #MeToo movement? Why or why not?
Download the notes to share with your class.
Source: Gwen Ifill of the PBS NewsHour interviews Anita Hill twenty-five years after the Clarence Thomas hearings. April 7, 2016. Permission has been granted for educational purposes only, courtesy of WETA/NewsHour Productions LLC via American Archive of Public Broadcasting (WGBH and the Library of Congress).
---
Use the toggle button above to switch to Magnify Mode. Magnify mode will help you see finer detail in the image.
Switch back to Annotate Mode to create your annotations with click and drag.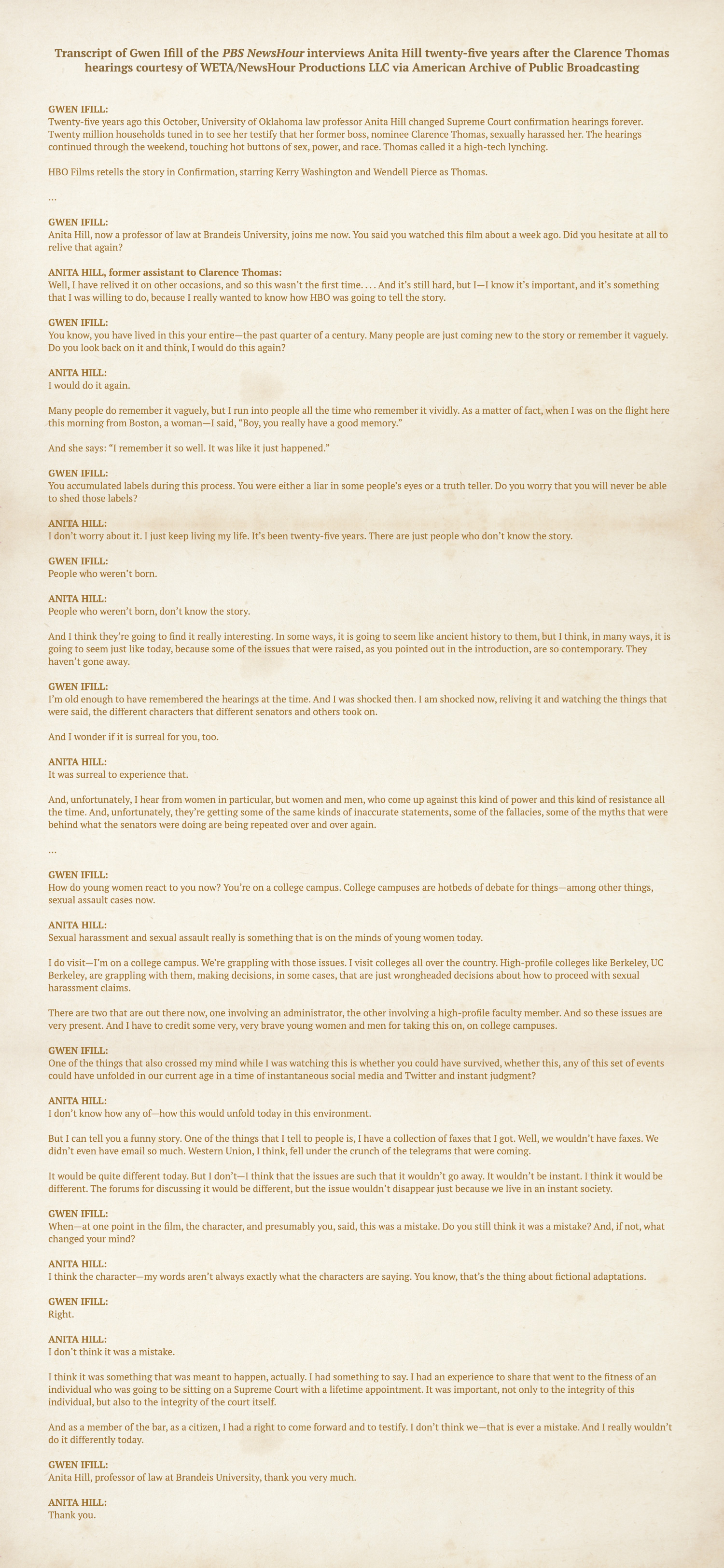 Your Annotations