Campaign for Women's Suffrage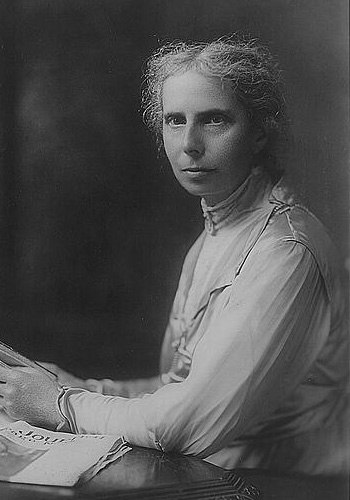 The news media played a key role in covering the women's suffrage movement from the Seneca Falls Convention of 1848 to passage of the Nineteenth Amendment. Looking back at this seventy-year period, how did the news media cover the campaign for women's suffrage?
Outcome
On August 20, 1920, the Nineteenth Amendment was ratified and women could vote in all forty-eight states. It was the landmark beginning of a century of progress for women in the United States, as a new world of opportunity opened up in education, work, and participation in politics and culture.
"Second Wave" feminism brought abortion rights in the 1973 Supreme Court case Roe v. Wade, four female Supreme Court justices beginning in 1981, and legal protections against discrimination in the workplace (the Equal Pay Act of 1963, Ledbetter v. Goodyear Tire and Rubber Company, 2007). In the 116th Congress, 24 percent of elected members were female.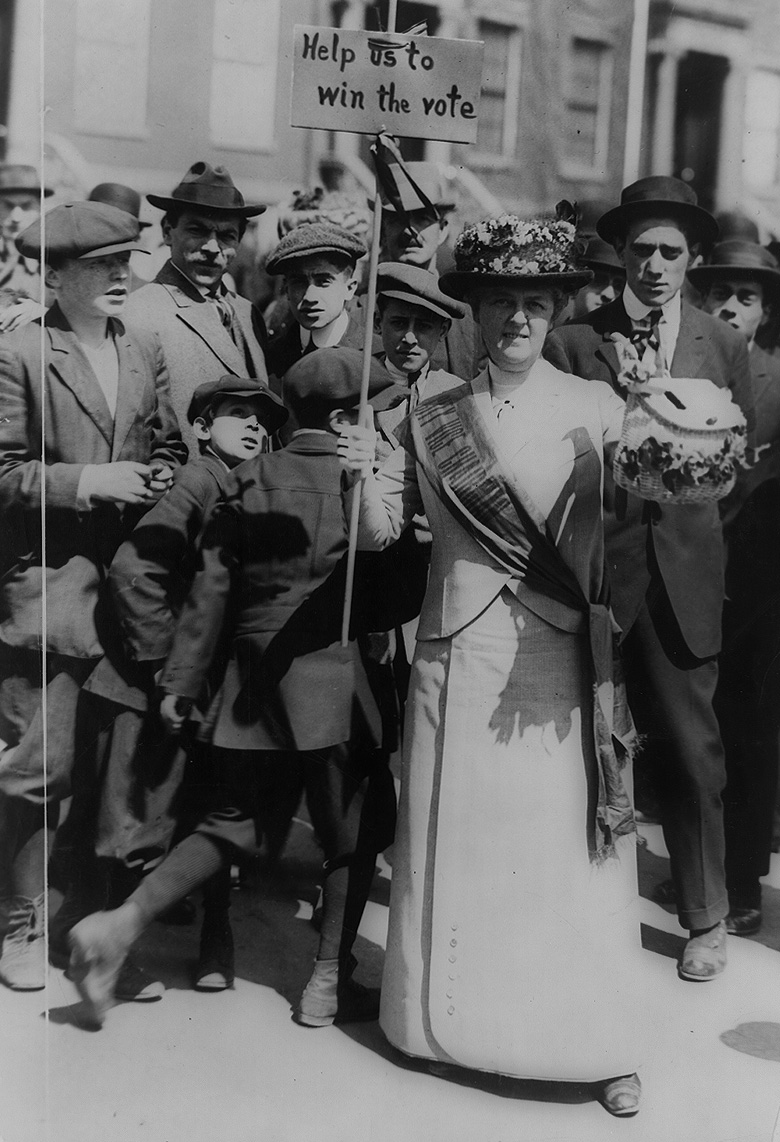 Suffragist, "Mrs. Suffern" holding a sign and a flowered ballot box, amid a crowd of boys and men, 1914. Library of Congress
Women achieved parity in higher education and went on to exceed men in educational achievement. More women than men are now enrolled in medical school and law school. In the journalism field, more women are getting communications degrees and serving as newscasters and byline reporters, although men still dominate.
In the twenty-first century, coverage of gender issues in the media demonstrates the move toward parity, as does the exposure of sexual harassment and oppression in the journalism industry as raised by the "#MeToo" movement.
As the country celebrated the centennial of women's suffrage in 2020, journalists continued to cover the obstacles around voting rights in the United States, including new voter ID laws, which studies have shown disproportionately affect people of color.
Discuss the following questions:
How did the Nineteenth Amendment give women rights and opportunities to fully participate in civil society?
What are some of the advances for women in the Second Wave of feminism?
What role has journalism played in advancing women's rights in recent times?
Create Your Own Story — Final Activity
Suffragists in each state worked to make sure their state legislatures ratified the Nineteenth Amendment. In this final activity, you will have the opportunity to create your own front-page news story on the suffrage movement in your state.
Directions:
Check out the story of ratification in your own state using the National Park Service's "19th Amendment By State" article and note the year of ratification.
Read two or three more articles from history websites that you have used before in class or your teacher recommends.
Write a short summary on your state's story of ratification along with a few facts about suffrage you have learned in this case study.
Review the images in the carousel and decide which image will best accompany your piece—be creative!
As you write your article, keep the following in mind:
Length: 2–3 paragraphs.
Include basic facts (who, what, where, when, why, how).
Tie your piece back to a specific idea from one of the images provided in the carousel below.
Decide which news format you would like to use, newspaper or website.
Give your article a title and add a headline (a good headline catches the reader's attention in some way).
Please select your media type.
Volume IIV
June 30, 2023
Issue 001
Your Title
Select Image
Your Subheading